This is a project-oriented class where the result of the project is a real-world implementation that meets the requirements of a community group such as a charity, non-profit organization, or educational institution. Students work in teams on the entire application development life cycle from requirements analysis through to maintenance. Lectures cover a range of topics such as practical application of requirements analysis, systems design, and database design methodological skills developed in prerequisite courses or from prior equivalent experience.
CULTURE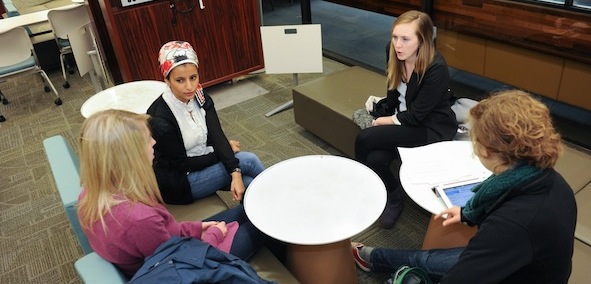 The community formed in the projects class is one that you will carry with you throughout your degree. In each group there will be people from different backgrounds in different stages of their program. Since the course is offered in each semester students continue to make friends and work with the same people throughout their degree. Students work on a variety of projects for a diverse set of clients.
Informatics
Informatics students are required to take this course in each study semester, unlike many university courses you have the opportunity to continue working with the same class throughout your degree.
Computer Science
Computer Science students can take this course as an elective at the 3000 level. This course offers the opportunity to work in groups similar to many real world situations. Students will participate in project design and implementation. In order for computer science students to register for this course they must have the pre-requisite Web Site Creation (INFX1605)
Contact
Faculty of Computer Science
Dalhousie University
6050 University Avenue
PO BOX 15000
Halifax, NS B3H 4R2
Canada
The Goldberg Computer Science Building is located on the Studley campus of Dalhousie University.